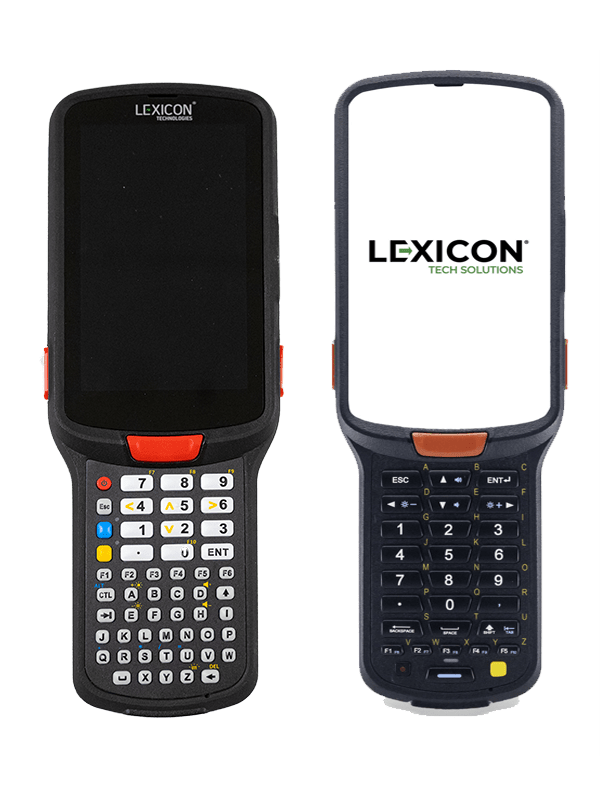 Lexicon's LE45 Rugged Mobile Computer Now Comes with SOTI and Ivanti Velocity Certifications
The powerful new handheld is helping companies big and small simplify the migration to Android.
CONYERS, GA, DATE — Lexicon Tech Solutions, a nationwide leader in maintenance and repair services for rugged mobile computers, barcode scanners, and label printers is pleased to announce two new certifications for the company's new LE45 rugged handheld computer. Already StayLinked certified, the LE45 now comes with a SOTI certification as well as having been validated to work with Ivanti Velocity software.
"Many of our customers trust these providers to solve tough mobility challenges," said Mitch Rogers, National Sales Director for Lexicon Tech Solutions. "We're proud to have each stand behind the LE45 with these certifications."
The Lexicon LE45 Handheld
Lexicon's LE45 rugged mobile computer represents the company's first foray into a manufactured device. In early 2021, Lexicon soft-launched the device. Tony Endicott, inventory control manager for House-Hasson Hardware, was one of the early testers.
"I knew the LE45 would be top-notch," said Endicott. "It's an awesome RF device that is fast and very user friendly with the Android operating system."
The wireless handheld is designed for medium-to-heavy duty environments and is ideal for supply chain applications from manufacturing and distribution to warehousing and retail.
The LE45 features an Android 9 OS, Zebra SE4750 or SE4850 imager options, a 4.5-inch WVGA capacitive touch display, and field installable pistol grip.
U.S.-Based Support
Lexicon's premium U.S.-based support services include advanced repair capabilities, security updates, development tools, asset tracking, warranty management, routing, actionable analytics, and AlwaysWorking™ maintenance support services.
One-year comprehensive maintenance coverage is included with the initial purchase of the LE45, with options for three-year or five-year comprehensive coverage and a guaranteed 3-day turnaround time.
For pricing information or to learn more about the LE45, contact Mitch Rogers at 678-750-0306 or mrogers@lexicontech.com.
About LEXICON TECH SOLUTIONS
For almost 25 years, Lexicon has been the go-to leader for customized technology solutions for top brands in nearly every industry vertical, with customers that include Amazon, Crate & Barrel, Cardinal Health, Staples, U.S. Foods, and the United States Post Office. The company offers nationwide maintenance programs for enterprises with deployments of Auto-ID equipment including barcode scanners, rugged mobile computers, and barcode label printers. In 2021, the company introduced the LE45, a feature-rich rugged mobile computer with best-in-class U.S.-based service and support. Lexicon also offers refurbished equipment restored down to the micro-chip level in their ISO 9001:2015-certified USA-based facility. For more information, visit www.lexiconLE45.com.
About SOTI
The SOTI ONE Platform is an integrated suite of solutions designed to reduce the cost, complexity and downtime related to business critical mobility. Comprised of seven revolutionary products, the SOTI ONE Platform helps businesses remove functional silos, eliminate downtime, build apps faster, manage all mobile and IoT devices in one place and deliver actionable insights. When everything is connected, the SOTI ONE Platform makes mobile and IoT business operations simpler, smarter and more reliable. Visit SOTI.net.
About Ivanti
Ivanti Wavelink software enables organizations to leverage modern mobile technology in the warehouse and across the supply chain to improve productivity, picking accuracy, and reduce risks without modifying backend IT systems. It's been deployed with 10,000+ customers on over 5 million devices. Ivanti Wavelink is part of Ivanti, which automates IT and Security Operations to discover, manage, secure and service cloud to edge. Ivanti is headquartered in Salt Lake City, Utah and has offices all over the world. For more information, visit www.ivanti.com/wavelink and follow @GoIvanti.
Press Contact:
Dena Harris
LEXICON TECH SOLUTIONS
+1 888-981-6714
Related Links
https://www.ivanti.com/products/velocity
Share this post