Technology Repair & Maintenance
The service for which Lexicon was founded. Precision technology repair has been a differentiator for us since day one.
Get a Quote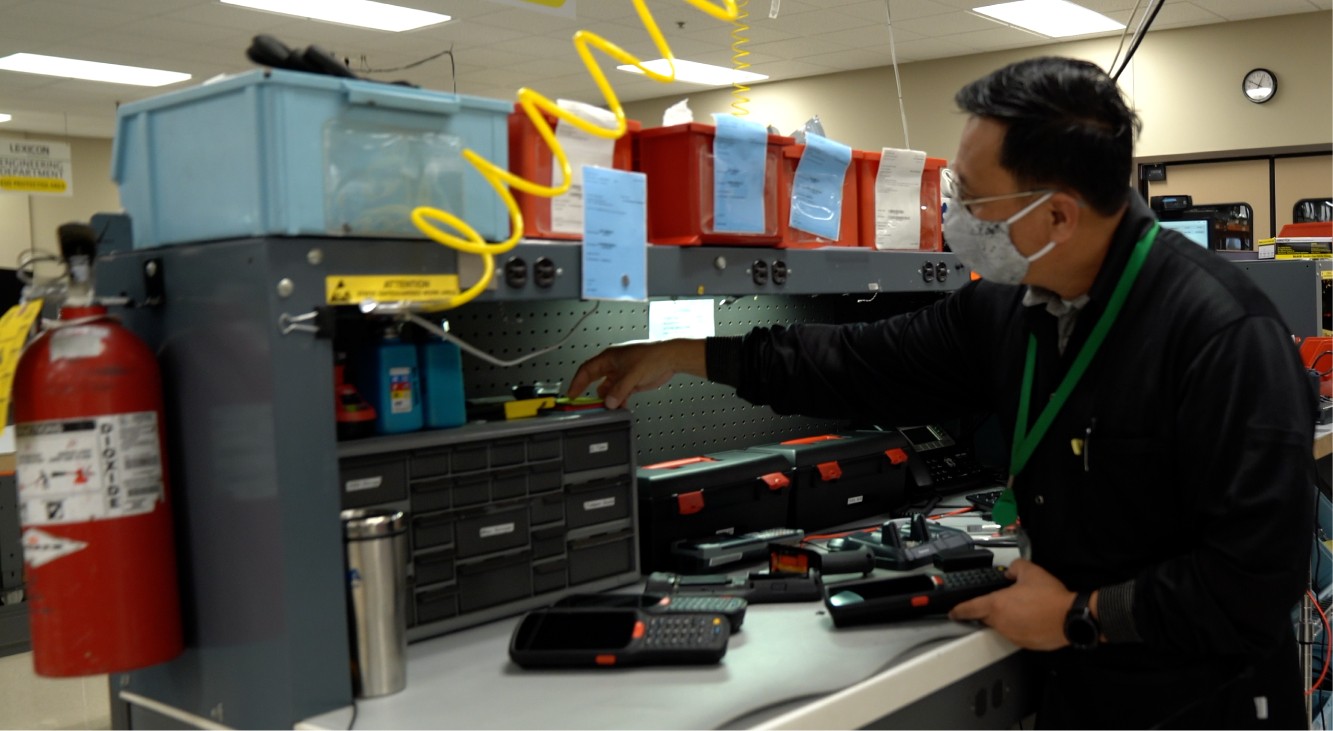 What makes Lexicon repairs unique?
Multi-manufacturer Repair Made Simple
Combine all your device maintenance needs under one roof. Lexicon supports a multitude of technology models from all leading manufacturers.
We're Based in the USA
We don't offshore or outsource our work. Our Atlanta-based 75,000 SF facility means faster turn time and quality excellence.
Industry-leading Turn Times
Lexicon repairs and returns devices in days — not weeks.
Advanced Repair Capabilities
Specialized microelectronics (BGA rework; X-ray inspected welds) allow for component-level repair. We are able to repair what most other providers would have to replace, extending the life of your devices.
Bulk Parts Ordering
We bulk purchase parts at the start of our partnerships to prevent delays in repairs and eliminate the risk of parts being unavailable. Parts are stored on site in our 75,000 SF warehouse. Simply put, parts delay is never an issue.
Certified Technicians
We're driven by procedural standards with a total of 14 individual certifications held by our technicians and engineers. Every technician is certified on every device model they support
Quality Assurance
We test every device for full functionality before returning it to you, eliminating the need for repeated returns for repair.
We Stand Behind Our Work
That's the Lexicon promise. Our repaired technology is warranted against failure of materials or workmanship for 60 days, and is eligible for extended coverage under a Lexicon maintenance agreement.

Lexicon's cloud-based technology maintenance platform is an intelligent system that manages scheduling, service level performance, spare devices, technician assignment and tracking for maintenance events for all manufacturer types and models throughout an organization.
"Lexicon saved me almost 40% on my repair and purchase parts. They will go above and beyond to take care of their customer's needs."
– Diane Cutter, Material Services Specialist, Diebold Nixdorf
Tailored maintenance plans provide the most savings & flexibility
Lexicon flat-rate repair services offer cost savings when compared to standard manufacturer coverage. But our custom maintenance plans are where real savings can occur.
Maintenance Plan Standard Features
Cloud-based incident tracking
Multi-manufacturers & models
End-of-life support
Failure reports
Tracking and Analytics
We promise certified quality
Lexicon Tech Solutions and our team of highly-trained technicians hold numerous quality-focused certifications.
Multi-manufacturer Support
Lexicon supports devices from all manufacturers and can obtain repair parts for any model.










How Lexicon repair saved the USPS more than $14 Million
The world's largest deployment requires expert repair and maintenance alongside unparalleled efficiency. That's why the USPS chose Lexicon to service their fleet of Motorola, Symbol, and Intermec handhelds, and Pantech phones.
Download the Case Study