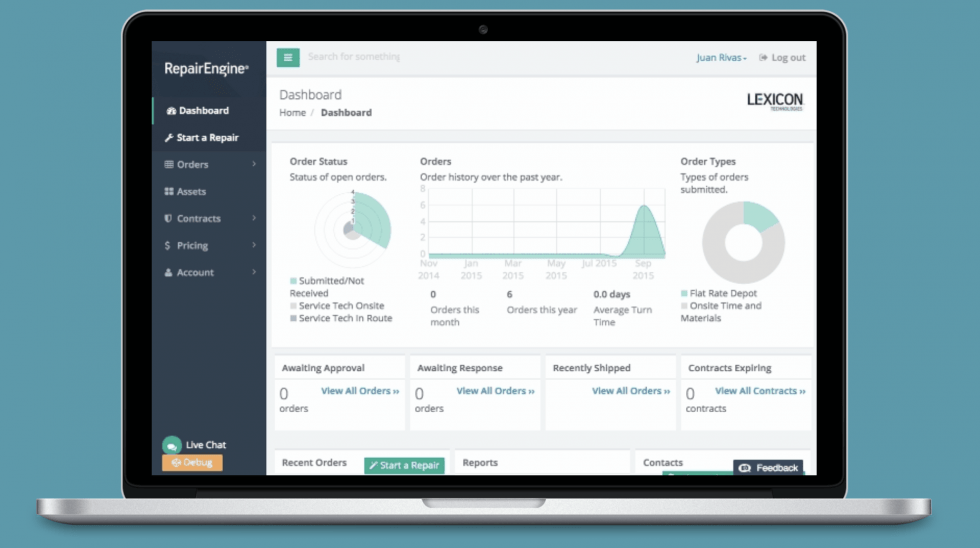 REPAIRENGINE FILLS GAPS IN MULTI-MILLION DOLLAR IT INVESTMENTS
Launched in 2016, Lexicon Tech Solutions' cloud-based RepairEngine SaaS platform is designed to streamline technology management. RepairEngine and the RepairEngine Mobile app is built upon analytics, making the platform especially beneficial for sustaining IT investments.
"There are a ton of choices for purchasing hardware — there are not a lot of options for maintaining it. We wanted to put the power back in the IT users hands. RepairEngine does that," said Dave Word, vice president of operations.
WHAT ARE COSTLY GAPS IN IT MAINTENANCE?
The first challenge for large IT users is warranty limitations. Hardware investments suddenly expire with the close of a warranty, and companies cannot afford to sustain use of hardware without maintenance coverage.
Second, distinct warranties create a mountain of various contracts to manage. And third, without comprehensive exposure to device performance and maintenance costs of IT across the entire organization, cost savings are nearly impossible to identify.
"We realized there is a significant gap in IT management — tools enabling companies to manage all technology maintenance in one place and to make data-driven decisions, rather than contract-driven ones. That's how we came up with RepairEngine," said Lexicon Technologies CEO Travis Collins.
HOW DOES REPAIRENGINE SUSTAIN IT INVESTMENTS?
RepairEngine manages all IT contracts, and notifies the user of contract expirations, and flat-rate cost savings available post-warranty. This allows customers to prolong their IT investments, and to efficiently manage all hardware within one platform.
Additionally, the data dashboard shares device performance by location and repair history, empowering IT leaders with decision-making analytics that can yield significant cost savings. Beyond using common sense engineering to help companies save costs, RepairEngine has on-the-go benefits.
WHY IS A MOBILE APP NECESSARY FOR IT MAINTENANCE?
"Enterprise IT users of today are mobile. They have a multitude of device types for various uses, and they need a mobile platform to efficiently and effectively manage deployments," said RepairEngine Lead Architect Jason Martin.
Accessible on iTunes and Google Play, RepairEngine Mobile is built for efficiency with notifications for technology tracking, status updates and billing, and key features such as barcode scanning for instant repair ticket creation.
RepairEngine and RepairEngine Mobile are free. Full platform features and mobile app are accessible as a Lexicon customer.
Read more at LexiconTech.com/RepairEngine
Share this post