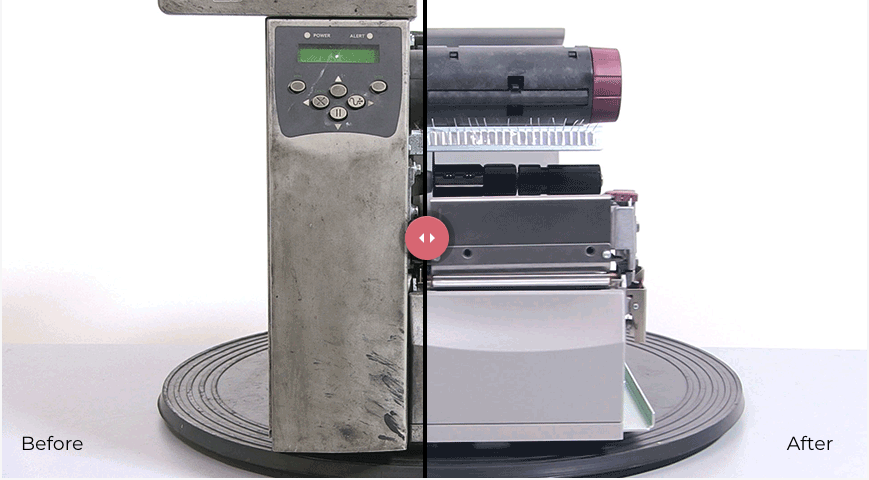 Lexicon-Certified® Refurbishments – Before and After
When it comes to refreshing your fleet and extending your technology investments, no one gives you the peace of mind that comes with a Lexicon-Certified® refurbishment. All our refurbished equipment comes with a warranty against failure of materials or workmanship for ninety (90) days, and is eligible for extended coverage under a Lexicon maintenance agreement.
Tattered technology can be made like-new with our 8-step process.
STEP 1: MICRO-CHIP REPAIR
Every component of the mainboard is repaired to function like the day it was first engineered.
STEP 2: PERFORMANCE TESTING
Parts are tested for maximum response and endurance. Any parts that do not meet Lexicon quality standards will be readily refreshed with new ones.
STEP 3: PLASTICS ENGINEERING
Broken or cracked external components and casings are repaired or recreated from scratch to improve the look and workability of the unit. Lexicon can use a laser etching machine to harden device casings damaged from misuse.
STEP 4: SCRUPULOUS CLEANSE
This is our trick to that sparkling, like-new shine. By applying specialty high-pressure cleansing techniques and solutions at exactly 140 degrees Fahrenheit, all Lexicon-Certified refurbished items are refreshed to their original state of sheen.
STEP 5: BUFFING AND POLISHING
Even the slightest scratch or scrape is sanded, buffed and polished to a shine, restoring metal or plastic back to like-new condition.
STEP 6: PAINTING
The chemical makeup of our hardware paint is specially formulated for seamless application and ultimate durability. Plus, each hue is custom mixed to achieve perfect color matching.
STEP 7: ASSEMBLY & TEST
After the work is done, units are reassembled and undergo a final round of performance testing to earn the Lexicon-Certified quality seal.
STEP 8: PACKAGING
Finally, each Lexicon-Certified refurbished item is carefully packaged so you receive it just like new.
Share this post