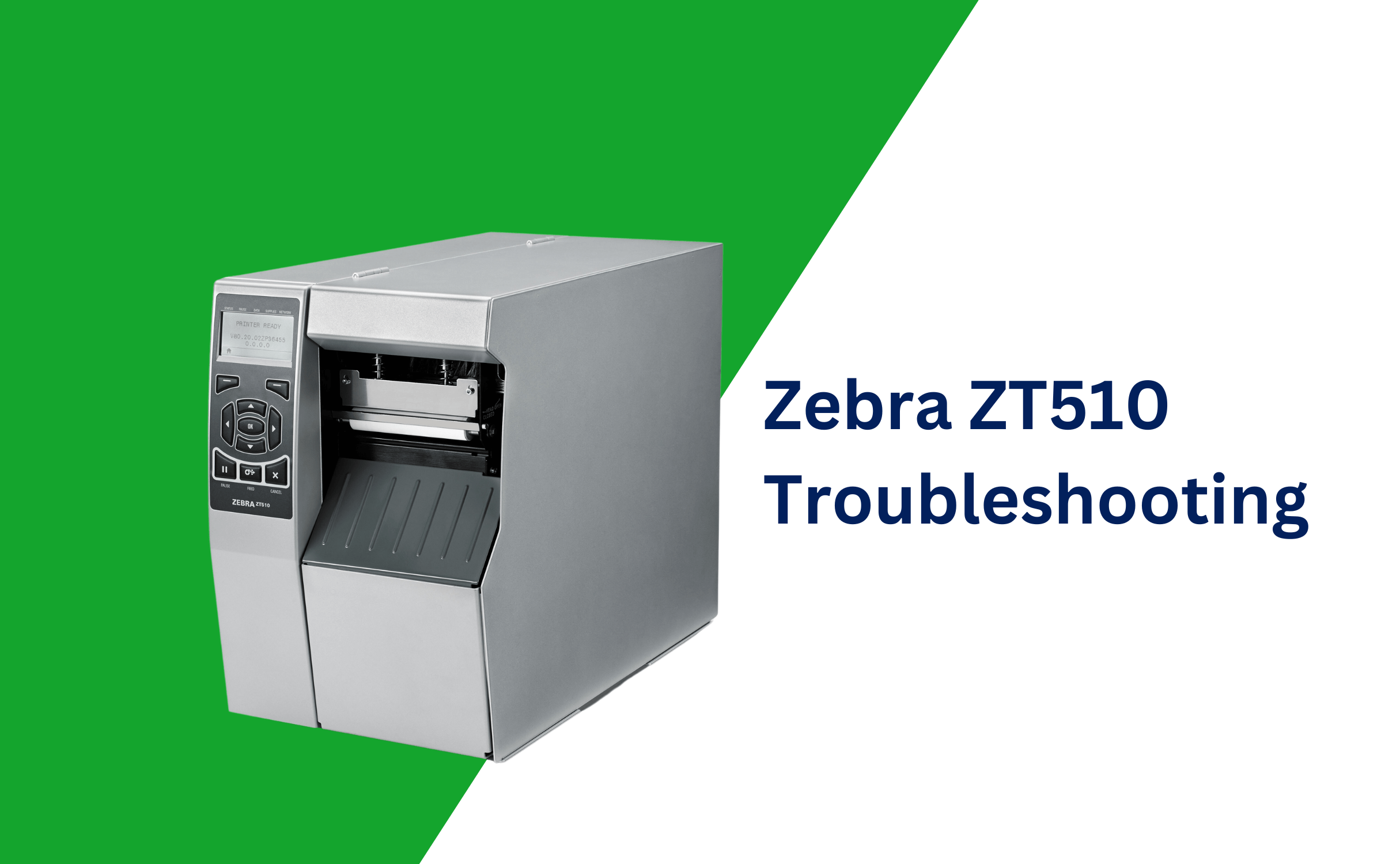 Zebra ZT510 Troubleshooting Guide
In today's digital age, having reliable, efficient, and high-quality printing solutions is crucial for businesses across various industries.
The ZT510, a member of Zebra's range of industrial printers, is renowned for its durability, print quality, and ease of use. Whether a business needs to print barcode labels or manage print jobs, this thermal printer can handle it all with uninterrupted performance.
Nonetheless, like any device, the Zebra ZT510 printer may also encounter certain issues from time to time. This brings us to the essence of this post – to empower our valued users with practical and simple troubleshooting guidance for their Zebra ZT510 printers.
At the heart of every business's daily operations lie routine tasks like label printing. Yet nothing about these tasks is "routine" when facing printer-related challenges. These seemingly insignificant issues could result in intensive consequences like halted operations or loss in productivity. Therefore, it's important to understand the correct approach to Zebra ZT troubleshooting, particularly in regard to common issues such as Media Out and Ribbon Out Error messages.
By the end of this post, you will have gained a more profound understanding of your Zebra ZT510 printer: its common issues, probable causes, and effective steps to resolve them. Regardless of whatever printing challenges you may face in your small business setting, remember – we're here, ready and waiting, to guide you towards a seamless printing experience. Let's get started!
Overview of Zebra ZT510
The Zebra ZT510 is an industrial printer designed to handle a wide range of tasks making it an excellent asset to any small business. This thermal printer provides exceptional print quality and comes packed with state-of-the-art features that modern businesses need. But before delving into the issues, let's provide a comprehensive overview of your Zebra printer. Understanding your printer in detail sets the foundation for successful troubleshooting.
Let's start by talking about some key features of this versatile device. The Zebra ZT510 is not just a printer, it's a valuable investment that has been crafted to facilitate all types of printing tasks, efficiently and effectively. It's an amalgamation of a print server and a printer, offering a wide embarkment to facilitate a smooth printing experience. This dual role becomes particularly valuable when handling printing labels and barcode labels.
But, the true essence of the Zebra ZT510 is found in the print server's control over printer configuration. Taking complete control over the printing functions, it ensures each print job adheres to the exact specifications determined within the printer configuration. This seamless process guarantees that printed labels, web receipts, or invoices come out perfect every single time.
It's also worth highlighting the ZT510's option for thermal transfer and direct thermal printing. This feature allows the device to adjust label size, thereby enhancing print quality and enabling small businesses to meet their various printing needs with ease.
At this juncture, understanding these facets of your Zebra printer provides an advantageous edge to identify the issues and their probable causes more efficiently. Troubleshooting becomes a much simpler task when you truly understand the device. To facilitate this comprehensive understanding, we will now delve into detailing the common issues and their origins in your Zebra ZT510.
Common Issues and Probable Causes in Zebra ZT510
Source: Zebra Technologies
As powerful and reliable as the Zebra ZT510 printer can be, it may sometimes present challenges that halt your printing process. However, that's not cause for alarm because, in this section, we will throw light on some of the common issues you might experience along with their probable causes. It is crucial to understand these problems in order to rectify them appropriately.
A number of error messages may appear when using a Zebra ZT510, but the most encountered among them is the Media Out and Ribbon Out error. These error messages often confuse users. Hence, understanding these messages is vital to troubleshoot them properly.
The Media Out error message indicates a problem linked to the absence of media or paper, while Ribbon Out indicates that there is no print ribbon detected by the printers. Both these issues may interrupt the printing process and hence require immediate attention.
Common causes for these errors are often a mismatch in the label size, issues with the thermal transfer functionality, or a misconfigured print server leading to incorrect printer configuration. Another frequent cause might be problems with the printhead or the platen roller, which halt the smooth functioning of your printer.
Occasionally, your printer may signal a paper jam issue. A paper jam can occur due to improper loading or when attempting to print with a jammed label. Regardless of the cause, a paper jam hinders the normal functioning of your Zebra ZT510.
Understanding the origin of the problem is the first step toward resolving it. However, we understand that there might be more specific issues related to your device. Therefore, let's discuss the detailed troubleshooting steps for these common problems.
Steps to Troubleshoot Zebra ZT510
Many times, rectifying common printer errors is easier than it appears, mainly when armed with the right information. In this section, we will provide hands-on, detailed solutions to solve the Media Out and Ribbon Out errors foreseen in Zebra ZT510 printers.
Before we dive in, it will be helpful for you to fetch the user guide or service manual that comes along with your printer. These resources possess essential information that could provide key guidance during the troubleshooting process.
Instructions on Fixing Media Out Error:
1. Resetting to Factory Defaults: Most issues can be resolved by resetting your Zebra ZT510 to factory settings. This action will return the printer to its default mode, removing any current settings that may cause the error.
2. Adjusting Printer Driver and Default Printer: An incorrect printer driver setup can lead to the Media Out error. Ensure to review the setup in the Zebra Setup Utilities or browser print and align it with your printing needs.
3. Checking Label Size, Printhead, and Platen Roller: If the printer is configured correctly, the issue could lie in the label size. Ensure the label is correctly inserted. Next, verify the condition of the printhead and the platen roller to ensure they are functioning properly.
Guide on Fixing Ribbon Out Error:
1. Check Ribbon: The Ribbon Out Error is often simply a case of the ribbon not being installed correctly or the printer being set in the wrong mode (Direct Thermal). Carefully rewind and re-balance the ribbon and change the printing settings to Thermal Transfer Mode.
2. Using Zebra Setup Utilities and Browser Print: If the error persists, check the settings in your Zebra Setup Utilities or Browser Print to ensure they are correct. A reset to factory defaults could be considered at this stage, too.
3. Sensor Adjustment: Some errors could be due to print sensor misalignment. A sensor profile review could help you detect if the sensor is functioning properly or not. Adjusting sensor calibration settings could resolve the issue too.
Simple steps such as those outlined above, using the service manual, and accessing user guides can be instrumental in troubleshooting your devices successfully. To ensure such issues do not recur frequently, the next section will offer some preventative measures to maintain the health and longevity of your Zebra ZT510 printer.
Tips and Tricks to Prevent Future Issues with Zebra ZT510
Now that we've addressed solutions to two of the most common issues users face, we believe the saying "prevention is better than cure" perfectly fits our context here. Regardless of the device, maintenance and regular spot-checks are highly recommended, and printers are no exception to that. This routine not only promotes longevity but also ensures impeccable performance over time. Therefore, here are some tips to prevent potential issues and keep your Zebra ZT510 in top shape.
1. Regular Maintenance and Print Head Check: The printhead is one of the most essential components of a thermal printer. Keeping it clean can improve the efficiency of your Zebra printer significantly. Regularly cleaning the printhead and platen roller could do wonders in sustaining the print quality. Check for the printhead cleaning procedures in your Zebra ZT510 service manual.
2. Understanding ZPL instructions: Zebra Programming Language (ZPL) is the command language a Zebra printer speaks. While it may seem a bit complex for new users, a bit of acquaintance with basic ZPL instructions could enable you to use the printer more effectively and conveniently manage print jobs.
3. Keeping the Media Compartment clean: Paper dust, dirt, or broken pieces of labels can accumulate in the media compartment which can affect your print quality and potentially cause paper jams. Regular cleaning of the printer's interior can benefit in enhancing its performance.
Routine maintenance and timely troubleshooting will ensure your Zebra ZT510 printer always functions smoothly. Revisiting these steps regularly will help keep your printer performing at its best, which in turn will add value to your small business.
Trouble With Your Zebra ZT510?
When to Repair
If your industrial printer is experiencing a minor issue or malfunction, a repair may be all that is needed to restore its functionality. Our technicians can quickly diagnose and repair the problem so you can use your Zebra ZT printer quickly.
When to Refurbish
Refurbishment may be the right solution if your industrial printer needs a more comprehensive tune-up. During a refurbishment, our technicians will thoroughly clean and test your printer and replace any worn or damaged parts. This will help ensure your printer runs smoothly and efficiently for many years.
When to Replace
Sometimes, a printer model may be beyond repair and need replacement. If that's the case with your Zebra printer, contact Lexicon Tech Solutions for a new printer recommendation.
If you're still experiencing issues with your printer, contact Lexicon for maintenance and repair services. Our team of experienced professionals is committed to providing reliable solutions to keep your equipment running smoothly. Don't let printer problems slow your productivity – schedule a consultation and get your equipment back in top condition.
This blog was reviewed for accuracy by:
Dena Harris, the Marketing Director at Lexicon Tech Solutions, is a distinguished marketing expert in the technology sector. With an impressive background in marketing strategies, digital education and over 15+ years in marketing leadership, she possesses a deep understanding of the intricacies of the field. Dena's keen analytical skills and industry knowledge have served her well at Lexicon Tech Solutions and beyond.
Share this post