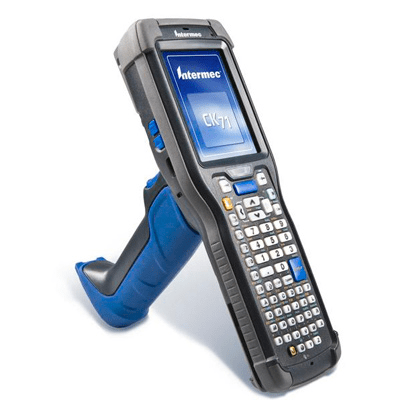 CK71 Scanner Not Working? Here's What to Do
Intermec CK products, including the CK71 scanner, are known for providing a reliable way for warehouse team members to quickly and conveniently scan items. The use of this ultra-rugged mobile computer in a technology-driven warehouse offers a convenient way for workers to handle warehouse duties while meeting the physical demands of this work environment.
Whether a forklift operator needs to use this mobile computer from time to time or a junior level warehouse associate uses it to track inventory levels, having a reliable CK71 scanner is crucial. Intermec CK 71 scanners are built to be dependable and provide a perfect balance of ruggedness, ergonomics, and duty cycle. However, this mobile computer can develop issues that prevent it from working properly.
Learning how to troubleshoot this scanner can help managers know how to get it working again or take other steps as needed. This can help minimize disruptions to warehouse operations, so team members can continue handling their duties in a fast-paced environment.
How to Troubleshoot the CK71 Scanner
Intermec CK71 scanners sometimes develop scanning issues, like not showing any scan beam or scan light when the scan button is pressed. If a warehouse associate or forklift operator experiences any of these problems while attempting to use the CK 71 scanner, there are certain steps to take in order to troubleshoot this device. These steps can help determine whether the problem occurs from a Microsoft Windows or other software issue or from a hardware issue. Going through the following steps can help determine the problem, so that it can be fixed in order to allow warehouse operations to continue.
Exit the Current Windows Application
The first troubleshooting step to take is to exit the current application on the Intermec CK scanner (go to the Microsoft Windows Desktop on this mobile computer) then press the scan button. If the scanner works after doing this, contact the application provider to disable the scanner module. If the scanner does not work after exiting the current application, move on to the next step.
Check to See if the Scanner Port Is Enabled
The scanner port must be enabled in order for the Intermec CK 71 internal scan engine to work. To ensure that the scanner port is enabled, go to Start > Settings > System > Intermec/Enterprise Settings > Data Collection > Internal Scanner > Enable Scanner Port. Note that this option should be automatically selected or checked.
If the "Enable Scanner" option is grayed out and not selected or checked, this can occur due to a hardware issue or firmware issue. Hardware issues will need repairs or a replacement. For a firmware issue, try to clean boot the mobile computer or refresh the firmware on it using the steps found below.
Use ScanDiagnostic to Enable the Scanner Port
The ScanDiagnostic option on the Intermec CK scanner might provide a way to enable the scanner port if it is not selected already. To find this, go to Start > ScanDiagnostic, then highlight the option for the internal scan engine. When this is highlighted, choose Diagnose, then select Yes. Doing this step should enable the scanner port on the device, so that the scanning function works. If this does not work, move onto the next troubleshooting step.
Enable the Intermec CK71's Hardware Trigger
The hardware trigger on the Intermec CK 71 scanner can force the device to power on, so that it can be used. To enable the hardware trigger on this device, go to Start > Settings > System > Intermec Settings > Data Collection > Internal Scanner > Scanner Settings. Select the hardware trigger to allow hardware buttons on the device to make it turn on. If enabling the hardware trigger in settings does not work, move onto the following step in the troubleshooting process.
Reset the Internal Scanner to Its Default Settings
When previous steps have not worked, restoring the internal scanner to its default scanner settings might help. In order to do this, go to Start > Settings > System > Intermec Settings > Data Collection, then press the Internal Scanner option and hold it. Choose the Restore Item Default option to return the internal scanner to its default settings. This might allow the device to begin working properly again. If this step does not work, the next step is checking button mapping on the device.
Check the Button Mappings on the CK Scanner
The button mappings on the Intermec CK 71 might not be set correctly, which can cause the scanner to not work. Remapping the buttons if needed might resolve this issue. To check button mappings on the device, go to Start > Settings > System > Intermec Settings > Device Settings > Keypad > Button Remapping. The button normally used for scanning should be mapped to Scanner. If this is not the case, remap the desired button to Scanner, then try using the device. If it still does not work, try the following troubleshooting step.
Do a Clean Boot on the Device
In some cases, returning the scanner to its Factory Default settings can make it work again. For example, if the Enable Scanner option is grayed out and unchecked, a clean boot might restore its functionality. Try to restore the scanner to its Factory Default settings to see if this fixes the issues it's having.
Reflash the Operating System or Upgrade Firmware
Reflashing the Windows operating system (OS) on the Intermec CK71 scanner might make it functional again. If this does not work, upgrading the firmware might help. Upgrading the firmware helps replace files that are missing or corrupted. Since missing or corrupted files can affect device performance, replacing them might allow the scanner to work properly again.
If this does not work and all other troubleshooting steps have been tried unsuccessfully, a hardware problem is likely to be the problem.
What to Do if Troubleshooting Fails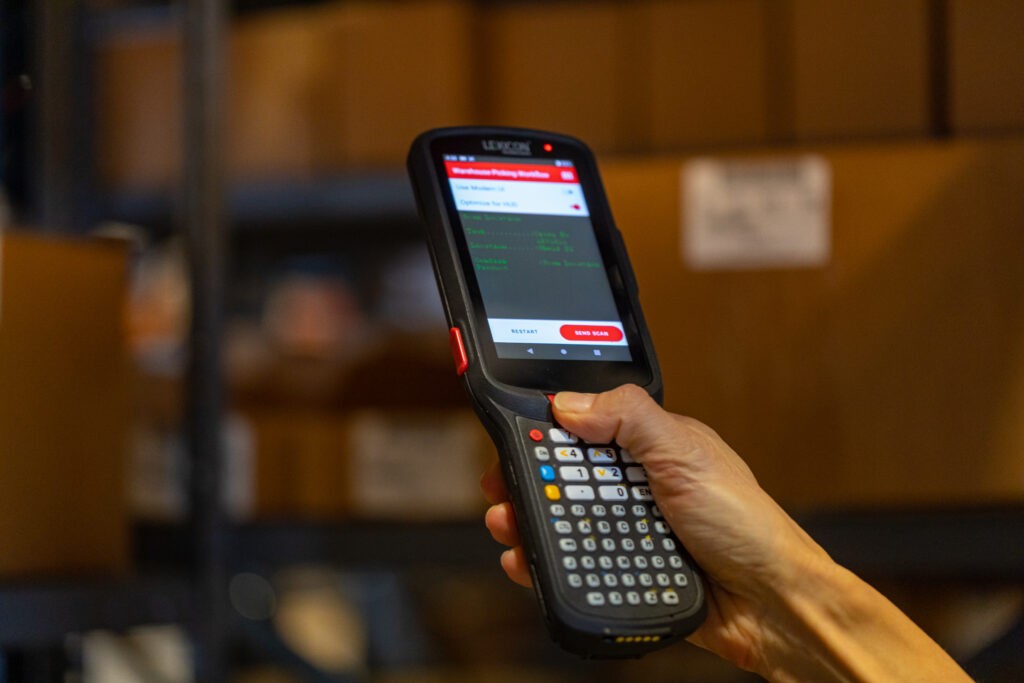 From exiting the current application to reflashing the OS or upgrading firmware, troubleshooting steps can help resolve software or firmware issues with the Intermec CK71 scanner. However, these steps won't help if the problem is with one or more hardware components. In this case, the best solution is to send it to Lexicon Tech.
Lexicon follows quality standards for assessing Intermec CK scanner damage in order to determine the next step. Some devices might be able to be repaired, while others might need to be replaced with a refurbished Intermec CK scanner or replaced entirely with a new scanning device or mobile computer.
Repair/Maintenance
Even warehouse employees with the strongest organizational skills need to have reliable facility equipment to track inventory levels. At Lexicon Tech, we offer timely repair and maintenance services for the Intermec CK71 scanner, as well as other mobile computer brands and models. Our repair services have a fast turnaround time to help ensure that CK scanners are working properly. This allows warehouse workers to have a productive work environment and meet the physical demands of their job.
Our maintenance services are designed to keep scanners functioning over the years. This helps ensure that these scanners can connect to Bluetooth devices as needed, keep accurate track of inventory, and handle other tasks. With reliable devices in hand or in vehicles, warehouse employees can perform well on the job.
Refurbish
We offer refurbished scanning devices that are restored to their original appearance. From junior level employees on the floor to forklift operator employees, every warehouse associate can easily use a refurbished Intermec CK71 scanner to perform warehouse duties.
Replace
If needed, we can replace Intermec CK71 scanners with another ultra-rugged mobile computer that provides high-quality technology. We recommend the LE45 as a replacement for the Intermec CK71 scanner. This scanner is able to connect to Bluetooth devices, scan inventory accurately, and perform other tasks that help owners and managers achieve warehouse operations goals.
Intermec CK71 Repair with Lexicon Tech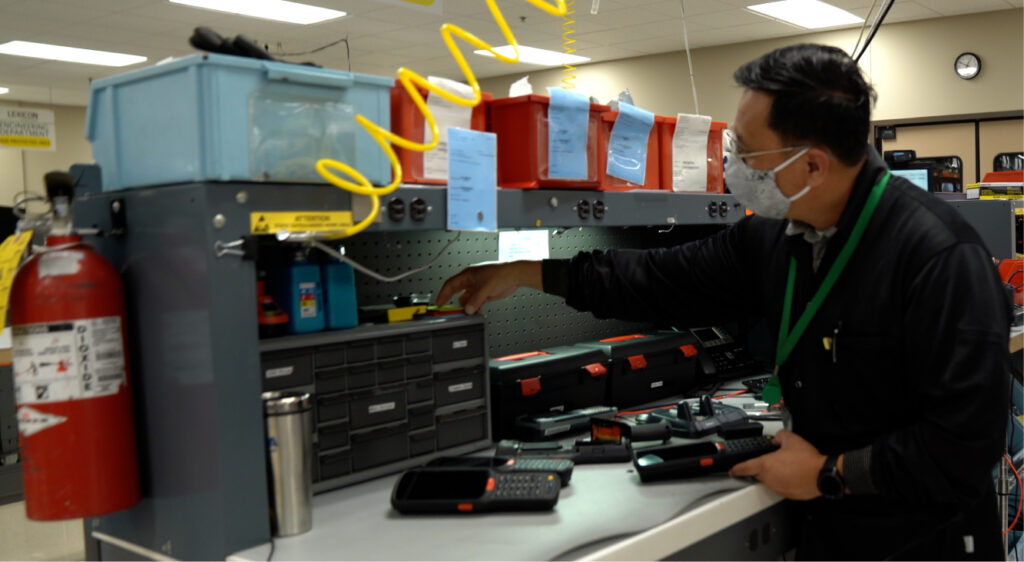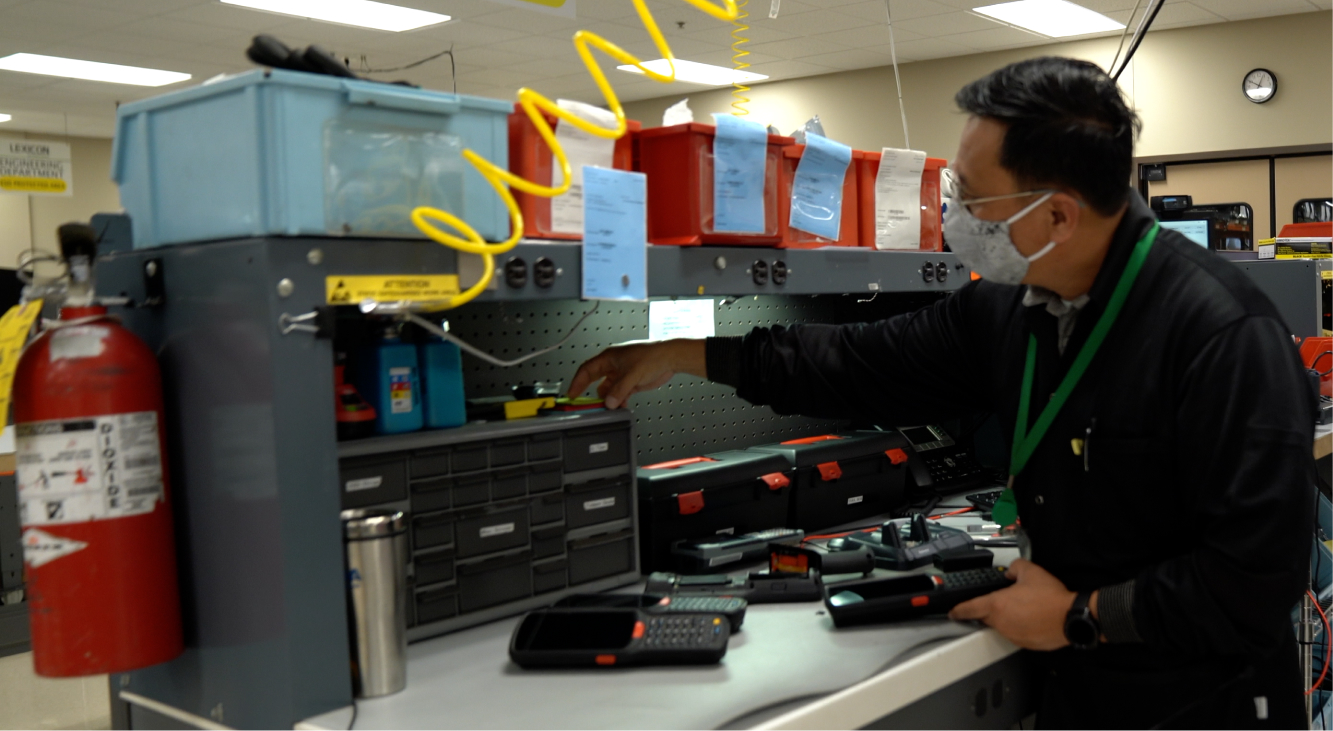 If you need repairs for Intermec CK71 scanners that are part of your warehouse management system, please contact Lexicon Tech Solutions. Our certified technicians can evaluate the affected devices and determine if repairs or replacements are needed. Our services can help ensure that each warehouse associate in your facility, from junior level workers to senior employees, has a properly working scanner for inventory management, materials handling, or other purposes.
At Lexicon Tech Solutions, we know how essential it is to have reliable mobile computers in a technology-driven warehouse. Our services also include barcode scanner maintenance to help keep your facility equipment in excellent condition. With an asset lifecycle management plan in place, your warehouse associates and other workers will be able to meet the physical demands for a warehouse work environment, while also using tech devices to track inventory and handle other warehouse duties.
For more information on our services, please give us a call. We can give you more details about our repair and maintenance services, as well as our replacement and refurbishment options.
Share this post