MC9300 vs MC9200: Device Breakdown
The MC9200 is an earlier ultra-rugged mobile computer in Zebra's MC9000 series, while the MC9300 came out later with several improvements. From scanning inventory inside warehouses and manufacturing facilities to scanning items in outdoor environments, the MC9200 and MC9300 withstand harsh conditions, hazardous materials, and more.
Since the MC9300 is an upgrade of the MC9200, business owners should compare these two barcode scanning devices before choosing one. For those who already have the MC9200 device, knowing more about the improvements made to the MC9300 can help determine whether to replace the earlier model. Keep in mind maintenance and repair options are available for the MC9200 as well.
What Is the MC9200?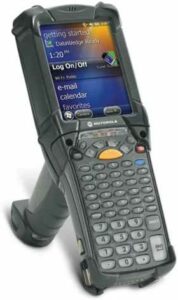 The MC9200 is a rugged mobile computer that can be used as a barcode scanner for various applications, including scanning 1D barcodes, 2D barcodes, documents, and photos. The Zebra MC 9200 device can handle being used as a handheld computer in different environments, from room temperature settings in warehouses to freezing conditions in outdoor settings. Each device, including the MC9200, can handle exposure to extreme heat, liquids, drops onto hard surfaces, and other hazardous conditions.
The Zebra MC 9200 device can be used with Android OS or Windows, giving users the ability to choose an operating system that provides the best functionality for their business. This device also features interchangeable keypads for additional customization and easier data entry. The Zebra MC9200 has specialized options for companies that only use direct part mark scanning or 1D barcode scanning.
MC9300's Improvements from the MC9200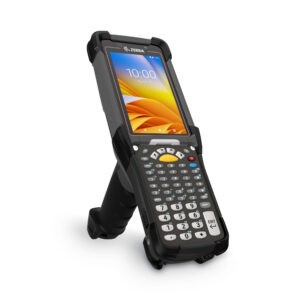 Although the Zebra MC9200 offers ruggedness, durability, convenience, and customization, it doesn't have the upgraded features that give the MC9300 exceptional performance and quality.
Freezer-rated battery. MC9300's freezer-rated battery that can withstand frigid temperatures as low as 40 below zero.
Humidity-resistant. The MC9300 mobile computer can handle humidity levels between 5 and 95 percent and operate at temperatures between -4 and 122 degrees Fahrenheit standard or -22 and 122 degrees Fahrenheit in freezer settings.
Scratch resistant screen. The Zebra MC9300 has Corning Gorilla Glass, giving it maximum scratch resistance.
Better scan ranges. The SimulScan feature allows multiple barcodes or text fields to be captured in a single scan, which results in greater efficiency.
Larger touchscreen. This Zebra device also comes with a larger touchscreen that uses advanced technology and a heated scanner exit window for improved performance. The design of this upgraded mobile computer provides all-day comfort for warehouse workers and other users.
Longer battery life. This battery life can handle a full shift before needing to be charged. Faster charging times also give this upgraded battery an advantage over the MC9200. The MC9300's battery life is nearly twice as long as the MC9200's. The MC9300 battery includes PowerPrecision Console, a PC-based Mobility DNA tool. This makes it easy to identify when the battery is aging so that it can be replaced.
Stronger connectivity. This rugged mobile computer features 2×2 Multiple-User Multiple Input Multiple Output technology, increased WiFi range, and faster WiFi speed. This helps improve application response times and ensures that WiFi connections keep working, which helps minimize disruptions to businesses.
Lifetime security. The LifeGuard feature for Android provides reliable security updates to help reduce security risks and keep these devices safe from cyberattacks.
Keypad replacement options. MC9300 devices have multiple keypads that can be replaced without returning these devices to a depot. Keypads for the MC9300 range from 29-key numeric keypads to 58-key alphanumeric with function keypads and 53-key virtual terminal keypads. The ability to replace these keypads as needed offers more convenience for businesses that need to switch from one keypad to another to capture different types of data or use these devices in different settings.
Feature Comparison: Zebra MC9200 vs MC9300
| | | |
| --- | --- | --- |
| Feature | Zebra MC9200 | Zebra MC9300 |
| Central Processing Unit (CPU) | Dual-core 1 GHz OMAP 4 processor | SDM660 2.2/1.9 GHz 660 8 core |
| Memory | Standard models: 512 MB RAM/2 GB Flash Premium models: 1 GB RAM/2 GB Flash | 4 GB RAM and 32 GB Flash |
| Battery Power | Lithium Ion 2,400 mAh battery and PowerPrecision technology for improved battery management | Rechargeable Lithium Ion 7,000 mAh standard battery, 5,000 mAh freezer battery, Supercap with Hot Swap support |
| Screen Display | 3.7-inch VGA resolution and color display | 4.3-inch WVGA (800 x 480) and color display |
| Camera | No camera | Optional front camera with 2.0 aperture and 5 MP fixed focus Optional rear camera with 2.2 aperture, 13 MP autofocus, flash LED, torch mode support, and rear camera barcode scanning support |
| Data Capture Abilities | SE965: 1D standard range scan engine SE4750: Next-generation omnidirectional 1D/2D imaging engine. Premium configurations available in Standard Range and Mid Range modelsSE4850: Extended range 1D/2D imager scans from 3 inches to 70 feet | SE965: Same as MC9200 SE4750: Same as MC9200 SE4850: Optional front-facing and rear-facing 13 MP camera |
Is the MC9300 Replacing the MC9200?
The MC9300 is not replacing MC9200 devices. The Windows variants of the MC9200 devices will still exist in addition to the MC9300 devices. The MC9300 offers upgraded features for improved performance. However, the MC9200 rugged mobile computer can still be used for various applications.
Note that the replaceable keypads for the Zebra MC9300 are incompatible with the Zebra MC9200. However, MC9200 device charging solutions can still be used with the addition of an adapter cup, hand strap, and soft holster.
Should You Upgrade to the MC9300 or Repair Your MC9200?
This depends on certain factors, such as the condition of existing MC9200 devices. If these devices are still in good condition and have not reached end of life (EOL), businesses can continue to use them. Keep in mind that as these barcode scanner devices approach EOL, they might require more repairs. At this point, upgrading to the Zebra MC9300 should be considered to ensure high-quality performance and accuracy.
The decision to upgrade to the MC9300 or repair existing MC9200 devices also depends on whether or not businesses need the upgraded features. If existing MC9200 devices continue to perform at the same quality level, businesses might consider having them repaired as needed. Routine maintenance done on these devices can also help extend their life cycle. If performance levels become worse, even after repairs, businesses should consider upgrading to the MC9300.
Another factor to consider is whether businesses prefer Android or Windows operating systems. The Zebra MC9300 does not have a Windows version. Instead, it is only available with Android OS, beginning with Android O or Android Oreo. Businesses using Windows OS can still do so on the Zebra MC9200 mobile computer.
Repair or Maintenance with Lexicon Tech
If you would like more information on upgrading to the MC9300 or having existing MC9200 devices repaired, please contact Lexicon Tech. Our certified technicians can answer your questions about these rugged mobile computers and help extend the life cycle of your existing Zebra MC devices with our repair and maintenance solutions.
Share this post