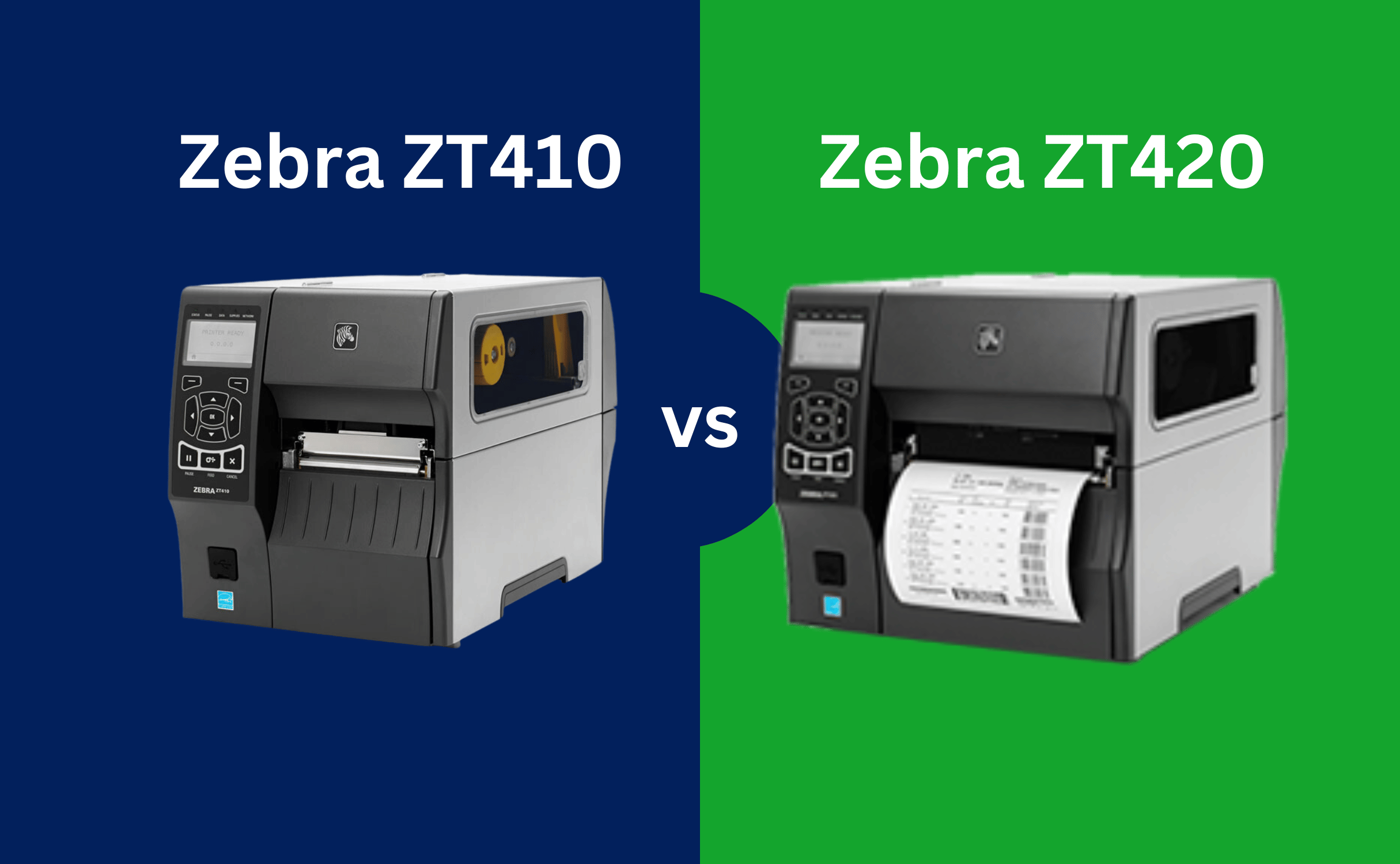 Zebra ZT410 vs ZT420: What's the Difference?  
Zebra is one of the most dominant brands in the industrial printer market, with a wide range of products fitting an encyclopedic number of use cases in various industries. Zebra has several printer series within the tabletop label printer category, and two of the most popular are within the Zebra ZT400 Series: the Zebra ZT410 and ZT420 (along with their newer siblings, the Zebra ZT411 and ZT 421).
These two printers are midrange tabletop printers with high print speeds and great connectivity. They're rugged, long-lasting, and compact. And they come with access to and integrations with Zebra's Print DNA suite of applications and Link-OS.
All of this leads to an important question: What's the difference between the Zebra ZT410 and the Zebra ZT420? (And what about the ZT411 and 421?)
We'll show you everything you need to know about these two rugged industrial printers.
What is the ZT410?
The ZT410 is the smaller of the two mid-range Tabletop printers in the Zebra printers lineup, designed for printing label sizes up to 4 inches in width. It's a high-performance industrial thermal label printer that's used extensively throughout numerous industries. It can print numerous types of label formats onto several different types of media, and it's best for environments that print two to four rolls of labels per day (or fewer).
The ZT400 series is higher in quality than the ZT200 series but lacks some of the more advanced features of the ZT510 and 600 series printers. This newer series replaces legacy ZM and RZ printers.
While the ZT410 is still fully supported, production has been replaced by the minor ZT411 update, which adds a color LED touch screen and several additional features. These two (the ZT410 and ZT411) are functionally identical in that their performance and compatibility are the same.
What is the ZT420?
The ZT420 shares the same mechanical and electrical components as the ZT410. This larger printer can accommodate labels up to 7 inches in width, with a maximum print width of 6.6 inches. As a trade-off for its wider capacity, the ZT420 is slightly slower than the 410 and caps out at 300DPI (still a high enough print resolution for most applications).
Like the ZT410, the ZT420 has been replaced by a slightly updated version, the ZT421, which gains the same updates as the ZT411 discussed above.
Zebra ZT410 vs ZT420: Core Feature Differences
The ZT410 and ZT420 are both members of Zebra's midrange of industrial thermal transfer label printers, and the two models offer similar performance and a similar operating experience. These are the primary significant differences between the machines.
Print Speed
The four-inch ZT410 has a maximum print speed of 14 inches per second (IPS), while the six-inch ZT420 is just a touch slower at 12 IPS.
Print Resolution
The ZT410 can print at three resolutions: 203 DPI, 300 DPI, and 600 DPI. The ZT420, on the other hand, can print at just two resolutions: 203 DPI and 300 DPI.
Connectivity Options
Both Zebra industrial printers boast the same wide range of connectivity options:
Parallel
USB
Ethernet
Wireless LAN 802.11 a/b/g/n
Bluetooth
Note that neither of these printers support the SEH PS102-Z Interval IPv6 print server or the applicator interface port.
Media Handling
The two machines have similar media handling capabilities across several categories. Label width is the single differentiator:
The narrower ZT410 can handle label widths from 1 inch (in) to 4.5 in.
The ZT420 accepts label widths ranging from 2 in to 7 in.
Other media handling attributes are the same for both models:
Both models accept label lengths ranging from 0.5 in to 39 in.
Acceptable thickness is between 2 and 10 mils for both machines.
Maximum media roll size (OD) is 8 in.
Maximum ribbon length is 450 m.
Last, both models include three media handling functions: peel with liner take-up, cutter, and full rewind.
Display and User Interface
The ZT410 and ZT420 feature the same simple monochrome LCD and a user interface dominated by four arrow toggle buttons, two unlabeled selection buttons, and a central "OK" button. The interface gets the job done, but it's an area where these printers could be improved.
Zebra apparently agrees, which is why the updated ZT411 and ZT421 swap out this display and UI for a color touch screen capable of displaying animations and allowing for more detailed on-device adjustments.
Physical Dimensions
The 36-pound ZT410 measures in at 10.6 in x 12.75 in x 19.5 in.
The 40-pound ZT420, in contrast, measures in at 13.25 in x 12.75 in x 19.5 in.
So the only functional difference in dimension is width—corresponding roughly to the difference in maximum label width.
Price
The currently available new units are the updated ZT411 and ZT421 (we'll discuss this small update later on). Pricing varies considerably, but expect to pay around $1500 for a base model ZT411 and around $2500 for the larger ZT421.
Which Printer is Best?
This is a difficult question, if not an impossible one, to answer in the abstract. Both printers offer a similar experience with three primary differentiators: label width (and corresponding maximum print width), maximum print speed, and maximum resolution.
It's easier to think in terms of which of these industrial printers makes the most sense in a given industry context, such as manufacturing, logistics, and healthcare.
[[note: existing copy said that the 420 has the higher resolution, but everywhere I checked (including Zebra fact sheet) was consistent that the 410 could do 600dpi, while the 420 maxes out at 300dpi. So I've adjusted to match.]]
Manufacturing
Both printers are commonly used in manufacturing operations for printing labels, barcodes, and product tags. The ZT410's slightly more compact size and slightly faster print speed make it suitable for production lines that require fast and efficient labeling and that don't need oversized labels. Its higher maximum resolution is attractive in certain print scenarios as well.
The ZT420, with its larger print width, is often preferred for applications that require detailed and larger labels or compliance labeling.
Warehousing and Logistics
In the warehousing and logistics industry, accurate labeling is crucial for inventory management and shipment tracking. Both the ZT410 and ZT420 can handle high-volume label printing and are equipped with connectivity options for seamless integration with warehouse management systems. The ZT410's faster print speed may be a strategic advantage in environments with a higher demand for label printing, while the ZT420's wider print capability can be beneficial for larger labels and compliance labeling.
Healthcare and Pharmaceutical
In the healthcare and pharmaceutical sectors, labeling plays a critical role in patient safety, drug identification, and regulatory compliance. Both printers offer reliable performance and the ability to print on various label materials, including healthcare-specific adhesive labels. The ZT410's compact design may be suitable for point-of-care applications, and its 600 DPI high-resolution printing can increase the legibility of small text and complex barcodes on medication labels.
The ZT420's wider label capacity has its uses in healthcare and pharmaceutical, primarily on the logistics and shipping side. However, due to its significantly higher price, slower speed, and lower resolution, the ZT420 is typically reserved for healthcare applications where a 5-6-inch label is required.
ZT410 and ZT420 vs ZT411 and ZT421
The ZT411 and ZT421 direct thermal and thermal transfer industrial printers are newer, slightly upgraded models that correspond directly with the ZT410 and ZT420. Zebra calls the newer models a "product line refresh" rather than a completely new pair of products.
Introduced in 2020, the newer xx1 models feature a 4.3-inch full-color touch display that replaces the smaller text-based monochrome display on the xx0 models. These touch displays enable powerful settings changes on the fly and in the field. They also allow the printer to display animated instructions and QR codes that point out to web-based support content.
Other updates found in the ZT411 and ZT421 include these:
an updated wireless chipset on the newer 802.11ac standard
Standard dual USB host ports
Printhead element out detection
Bluetooth 4.1 (previous model had 2.1)
Optional RFID capabilities (on-metal tagging on the ZT411)
Optional applicator interface card
Adjustable transmissive sensor
While you may be able to find the older ZT410 and ZT420 offered for sale, Zebra no longer manufactures the older models. All new models coming off the assembly line are ZT411 and ZT421 printers.
Other than these updated features, these newer printers function identically to their older counterparts. Accessories for the ZT410 and 420 work with the ZT411 and 421, respectively.
Contact Lexicon Tech Solutions to Learn More
The industrial printing landscape is a complicated one—because industrial printing itself is a massive category full of all sorts of unique use cases and applications. It can be difficult to navigate without a trusted partner.
Lexicon Tech Solutions has been guiding enterprise businesses through complex tech and IT questions such as this one for many years. Our team understands the unique needs of manufacturing, logistics, healthcare & pharmaceutical, and other industries with industrial printing needs.If you need guidance on repair and maintenance for the ZT410, ZT420 or other devices, we're just a phone call or email away. Reach out to our team now!
Share this post